The Art of Bespoke
ROEN believes that creating your dream ring should be both effortless and exciting. Our seamless process meticulously tailors every detail to your unique preferences and style, culminating in a flawless, personalized masterpiece.
Get Started
Get more information or book a complimentary consultation with a ROEN Bespoke Client Specialist.
Just click below to start.
How it Works
ROEN Bespoke's goal is to work collaboratively with you and our artisans to create a bespoke experience that will be remembered for a lifetime.
Our expert diamond & gemstone team is here to answer all of your questions and provide guidance as you create your dream engagement rings & one-of-a-kind pieces.
"The process was transparent, and they guided me every step of the way, working with me down to the last detail. It was a special feeling to create a one of a kind bespoke piece for her, rather than something off the shelf."
– Andrew D.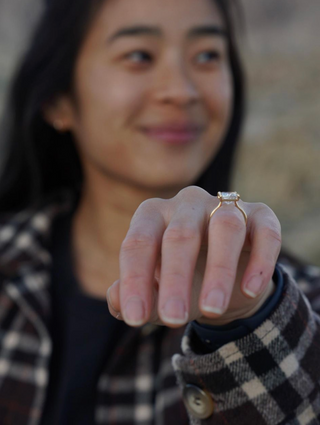 "The craftsmanship of my bespoke piece is out of this world... I love my bespoke piece so much, I even got two stones on the inside with an engraving per Sherry's suggestion. I highly recommend their bespoke process if you're in the market."
– Adrianna L.
"Designing our custom ring was an amazing experience from start to finish. The ROEN team's attention to detail and knowledge of the intricacies of jewelry design resulted in a product that went above and beyond our high expectations. The end result speaks for itself (as do the compliments my fiance gets on a daily basis)"
– Shreerag J.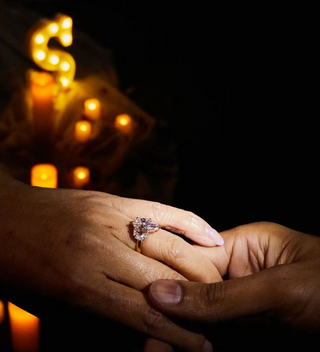 Frequently Asked Questions
Ready-to-Ship Diamond Rings
ROEN Bespoke - Fine Diamonds & Engagement Rings, Handcrafted in New York City:

At ROEN, we're more than just jewelry; we're the epitome of luxury, craftsmanship, and sustainable elegance in the engagement ring industry. Our commitment to quality, authenticity, and personalization sets us apart.
Every ROEN engagement ring is a masterpiece, meticulously handcrafted in the heart of New York City by our team of master jewelers with over 20 years of experience. We never mass-produce, ensuring that your ring is a unique work of art that reflects your love story.
Choose from our exquisite collection of premium engagement ring settings or work with our dedicated client services team to create a custom design that captures your unique bond. We believe in transparency and honesty, which is why we offer elite lab-grown diamonds for those who prioritize sustainability and elite natural diamonds for those seeking timeless beauty.
As an Asian American and female-founded brand, we understand the importance of a personal touch. We aspire to be your personal jeweler, providing you with the finest in luxury, service, and customization.
Discover the future of engagement rings with ROEN, where luxury meets sustainability, and your love story takes center stage.